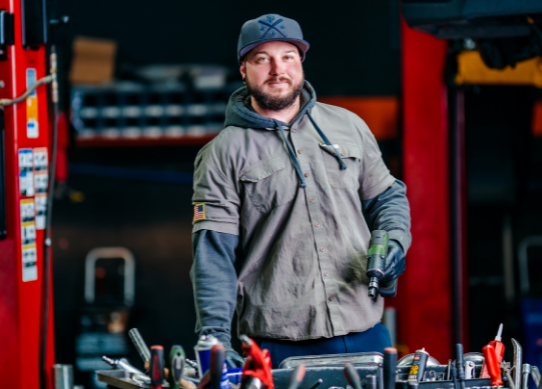 A Reputation Years in the Making
Jay's Total Car Care is a locally owned and operated auto repair service located in Sparks, NV. Jay's Total Car Care has been serving the local community and surrounding areas for six years. Our ASE certified technicians are ready to deal with any car repair needed or vehicle issues you may be experiencing. James Matlock, the Owner, started his career in auto repair with a mobile repair business. Jay gained a reputation for quality work and was able to grow the company to the point that a physical location was needed. We continue to grow because of our dedication to service and integrity.
Jay's Total Car Care is a full-service preventive maintenance and automotive repair center. We perform high quality, guaranteed service you can trust at a fair price. We repair domestic and foreign vehicles and are your best choice for scheduled maintenance of your car, SUV, truck, and fleet vehicles.
They are members of the Better Business Bureau, Chamber of Commerce. Jay has made sure to surround himself with employees that would share the same vision, values, dedication and professionalism that they offer to their clients. That's why they hand-picked their crew to assure you that you and your vehicle are in the best of care. All of the employees here at Jay's Total Car Care are very honest, hard working, most dedicated people you will ever meet.
Our Team
Meet Our Specialists from Car Repair Service
Our team specializes in many different types of vehicles, and since they work on a wider variety of vehicles than their dealer counterparts, their overall expertise is greater, too. By working on many makes and models, our technicians can be trusted to properly diagnose challenging repairs and other issues. As automotive technology advances, our team is continually updating their education & skills.
Brandon is our General Manager at Jays. Brandon has a background doing his own mechanic work and also in the auto detailing industry.  Brandon enjoys watching the Minnesota Vikings as well as camping and riding motorcycles.  When a customer leaves with a working vehicle it makes his job worth it.
T.J is a southern native growing up in a military household and has spent a lot of her time traveling with her family, She has a deep passion from cars which started when she was only 9 years old, she has spent time volunteering at local animal shelters. Even though she has had a deep passion for cars since she was young, she is happy to make the switch into the automotive field and looks forward to helping any and all customers getting back on the road ethically and professionally.
Reno born and raised Cade has worked in the area as a Technician for over 7 years. His grandfather was a master mechanic who passed down his love of cars to both his son and grandson. Cade is also a Motor Transport Operator in the Nevada National Guard and is co-driver on his fathers off road racing team, which is now sponsored by Jay's Total Car Care.
Anthony
Apprentice Technician
A native Nevadan Anthony feels strongly about providing exceptional service to the customers of Jay's Total Car Care. Utilizing the knowledge and tools passed down to him by his father he is stepping in as the shop's apprentice. He feels a deep sense of pride any time he gets to take a tool from the tool box his father passed down to him after decades of use on his own projects. Anthony has his sights set on becoming a fully fledged Technician under the guidance of the team here at Jay's and looks forward to learning all he can from our team of master mechanics.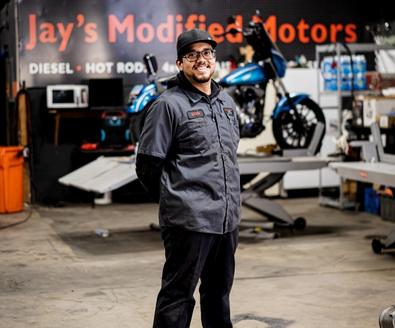 Kevin was born and raised in Reno and likes to spend his free time riding motorcycling, Shooting guns, or working on his own mechanical projects. Kevin is Jay's one and only certified welder and handles almost all of our vehicle fabrication projects. When it comes to working on vehicles Kevin prefers to work on our foreign cars as it was his love of foreign vehicles that got him into the field to begin with.
Colorado native Phillip has been in the automotive industry for over 10 years, Japanese specialist, as well as holding a certificate as a honda master tech. Phillip got into the field because his grandfather raced dune buggies and that's where Phillip's love for vehicles came. Phillip puts many hours into here at the shop making sure your car is top notch but never sacrifices time with his kids and wife.
Need Help With Your Car? We'll fix it
We are specialists in car, truck and diesel repair.
APPOINTMENT
NEED HELP?